Full and partial dentures for the Carroll County area
Full Dentures
Full dentures are a set of two custom-made, removable prosthetics designed to replace missing teeth. They are made out of plastic or acrylic that rests on the gum, so they typically require all of the upper and lower teeth to be removed for the prosthetic to fit optimally. Full dentures are necessary for people who are missing a significant amount of teeth and want to restore the aesthetic appearance and function of the mouth.
Partial Dentures
A partial denture is a removable prosthetic that replaces one or several missing teeth inside of the mouth. Unlike full dentures, they don't require all of the patient's teeth to be removed in order to use them. Partial dentures are designed to keep the underlying oral structures, like the jaw, gums, and facial muscles, active and engaged while also preventing the existing teeth from shifting into improper positions.
How can dentures save your smile?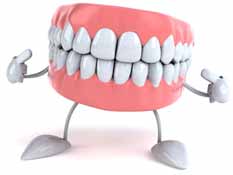 Your smile is so personal. It is literally part of your self-esteem.
When your mouth hurts, when you hold back from sharing your smile with others because of gum pain or missing teeth, you soon start to feel less authentically you.
Soon it is more than just your mouth that is in pain, and life feels a little less joyful with each passing day. For these good reasons and many others, more and more people just like you are turning to modern dentures in Westminster MD.
Meet today's sleek modern dentures in Westminster, MD
When you think of the word "dentures," what comes to mind? Clunky fake teeth in a jar of water beside your bed, right? These may still work in movie scenes, but they are a far cry from the sleek, streamlined dental miracles that are today's modern dentures.
All it takes to see the difference is to schedule a visit with Dr. Gary Imm. In 15 minutes or less you can find out just how far dentistry has come.
Would you like a facial rejuvenation with that?
The dentures of today's neuromuscular dental technology offer far more value than just easing mouth pain. For instance, did you know that modern dentures can also give you an immediate facial rejuvenation and improve your oral health?
This is how it works. Over time, your facial muscles grow tired from coping with missing teeth. At fatigue builds, your face can begin to sag. Restoring the uniformity of your jaw also provides support to tired facial muscles, nerves, and tissues, shaving years off of your appearance – completely au natural!
As well, improved ability to completely chew your food helps your body assimilate nutrients more easily, easing issues with indigestion and improving your energy level.
Your modern denture options
Today's modern dentures may be made of conventional metal and also acrylic (plastic), a flexible material which molds to your mouth. Your denture options include (but are not limited to) these.
Removable (partial) dentures
Fixed dentures (commonly called a "bridge")
Complete jaw replacement dentures
Immediate temporary dentures
For a more permanent solution to secure your dentures and boost confidence, see our TeethExpress dental implant option.
How to know you could benefit from modern dentures
Use this simple checklist to do a quick self-evaluation.
Your last dental visit was more than 12 months ago
Your gums feel sore, swollen, tender, or are visibly bleeding
You notice gaps between your teeth or feel your teeth shifting in their sockets
You have pain that seems indicative of a toothache
Hard or chewy foods are no longer on your menu
You suffer from indigestion regularly
You often catch yourself before smiling naturally like you used to do
Schedule a consultation appointment at our Westminster, MD office
If you are one of the one in five Americans who hesitates to visit the dentist regularly, you are not alone! However, just as modern dentures have come a long way from the "false teeth in a water glass" days, so too has modern dentistry made visiting the dentist easy, comfortable, and ever more affordable.
So just take it in steps. Your first step is just to gather information. Take the self-test here, and then call Dr. Imm to schedule your initial consultation at our Westminster, MD office and be on your way to restoring your smile, your oral health, and your joy in life!