Migraines and headaches are just a way of life …. aren't they?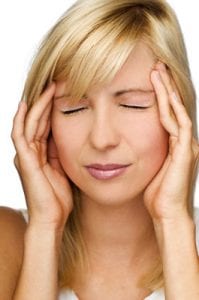 You have been living with constant headaches for so long now, it's just become a way of life.
In fact, it's been so long since you haven't had a headache you simply can't remember what life was like before. This way of living has defined you.
You might not be aware that your TMJ could be causing the following:
chronic headaches or migraines
facial pain
irritation in your shoulders neck and back
What causes TMJ headaches?
When your temporomandibular joint isn't lined up properly, the muscles of your face, neck and head are relentlessly strained. Everything you do increases the stress and strain on those muscles and more importantly, on that particular joint.
Even when you are relaxed, your jaw muscles are not "resting" in their authentic and natural position. The stress is always there because of the misaligned joint. All this strain on your head, face and neck muscles can lead to headaches, TMJ migraines and irritation & soreness in all the inter-connected muscles.
Is your headache a TMJ migraine?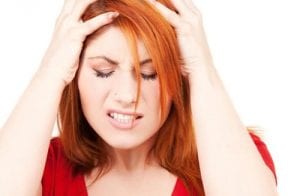 TMJ headaches can result when your jaw, face and neck muscles are perpetually strained.They can also be caused by a build-up of blood. When muscles become strained, blood is can become blocked and unable to flow to the right places in your head, face and neck.
When your body tries to correct the situation by sending in more blood, the pressure increases. If you've experienced these types of headaches before, you know how incredibly painful they can be.
Most often associated with your temple area, TMJ headaches can also occur behind the eyes and at the back of the head, with the pain sometimes spreading to your neck and shoulders and back.
Painful, severe and frequent, TMJ headaches are often misinterpreted as migraines. The difference is, classic migraine headaches are:
mainly on one side of your head
usually accompanied with visual disturbances and extreme sensitivity to light.
The treatment for migraine headaches can be quite different from TMJ headache treatment. That's why it's so critical go the the opinion and diagnosis of a qualified dentist.
Make your migraines stop
The solution to a TMJ migraine isn't painkillers or anti-inflammatory drugs. The key to resolving your TMJ pain is a correct diagnosis of what's going on with your jaw. Baltimore/Westminster's Dr. Gary Imm uses the principle of neuromuscular dentistry along with technology like, Tekscan and CT scans to determine the root cause of your jaw joint dysfunction.
Once diagnosed, Dr. Imm will prescribe treatment for your specific problem. TMJ treatment can range from something as simple as muscle relaxation with a TENS machine to more complex treatments like:
physical therapy
teeth restoration
surgery
Once your TMJ treatment has restored the harmony and balance of your teeth and jaw, your painful symptoms will fade away like a bad dream.
Need help?
By carefully observing and monitoring your jaw and your TMJ symptoms, Dr. Imm and his team at All Smiles Care can discover the root cause of your pain and determine how it's causing your TMJ migraines.
With that critical first step out of the way, they'll be able to determine a treatment plan that will help you find your way back to living a life, free of pain! Find out for yourself!