3 major benefits of dental implants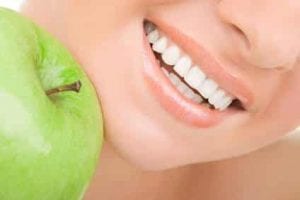 If you have one or more missing teeth, you have probably spent some time considering their replacement, or maybe you wonder whether you should bother at all. There is no doubt that replacing missing teeth helps to maintain good oral health, and, of all the methods available today, dental implants are the standout choice. In fact, here are three major benefits of choosing dental implants.
1. Durability
Dental implants are surgically placed into your jaw bone using a new tooth root constructed from a titanium post. The post is then capped with a custom-fitted porcelain crown. What makes this replacement so durable is a combination of both the method and the materials used. As the gum heals around the newly-inserted post, the bone beneath it actually fuses to the prosthetic root, and this gives your new tooth a strong foundation to support it.
2. Natural-looking
There is no other option for tooth replacement that so closely resembles human teeth, both in looks and functionality:
You never have to remove them or worry about them coming loose
They are brushed and flossed like human teeth
The porcelain crown is custom-crafted and tinted to match your own teeth in color and size
3. Maintain a healthy bite
Another major benefit of dental implants is how they help you to maintain better overall oral health, starting with your bite alignment. When space is created after the loss of even one tooth, your neighboring teeth begin to drift. This can lead to a lot of trouble over time. Those teeth can become crooked, and this changes the way your teeth fit together.
Subconsciously, your body struggles to find a way to "fix the bite," and usually this means the onset of bruxism, or teeth grinding. Unfortunately, this will also eventually wear your teeth down. More importantly, however, this creates an extraordinary amount of stress on your jaw joints, and this often leads to TMJ, a painful jaw joint disorder.
Learn more
If you would like to learn more about dental implants and if they are the best tooth replacement treatment for you, please schedule a complimentary consultation.