Dental fillings – See you around mercury!
Though there is a great variety of cosmetic dental procedures that can help improve your health and your smile, Dr. Gary Imm still provides plain old dental fillings for his patients. The good news is dental fillings no longer have to be made out of metal or amalgam. Now you have the choice of composite, or porcelain fillings.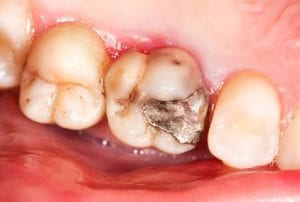 The old amalgam or mercury and silver dental fillings have been shown to be not as healthy as once thought. With traditional mercury amalgam fillings, dentists must drill deeply into your tooth resulting in tooth weakening up to 75%.
Additionally, as you eat or chew, amalgam fillings can separate from your teeth creating gaps that allow bits of food to get in. Over time, this trapped food begins to cause tooth decay. Very hot or cold beverages can also cause these amalgams to expand or contract causing problematic cracks in the teeth they're intended to protect.
Say hello to the next generation of dental fillings
If you still have old mercury or metal fillings that leave you with a mouth filled with dark and ugly looking teeth, you'll be happy to know the dentistry world has come a long way from the days of metal filings. Today metal-free and mercury-free fillings are not used by most dentists mainly because toxins from the metals in old fillings can cause an unhealthy build-up in your body, leading to numerous health issues.
There has been a significant push to remove all forms of metal from your mouth, replacing it with materials such as porcelain and composite resins.  Today's tooth-colored composite fillings are more attractive and a more enduring alternative to metal.
Get beauty, strength, better protection
Cosmetic dentists, such as Dr. Gary Imm and his All Smiles Care team in Westminster now offers porcelain and composites replacements to your old, silver and metal fillings.
Tooth-colored composite fillings are not only safer, stronger and more attractive than metal fillings, they also last longer. They bring strength back into your teeth and beauty back to your smile!
If you are restoring a tooth for the first time, composite filling materials not only reinforce and strengthen the tooth but it will provide for greater longevity and beauty.As a rule, they are also far less destructive to the tooth. When you initially have a "white filling" it requires only minimal natural tooth removal. It not only repairs decayed areas but it also seals up weak spots so decay will not infiltrate the other surface grooves.
When you need a new filling or need to replace one, make sure you take advantage of today's better materials to get the longest lasting, healthiest treatment you can.
Frequently Asked Questions
What Are Dental Fillings?
Dental fillings are used to fill the small holes called cavities in a patient's teeth. Not sure if you need dental fillings? Get in touch with the All Smiles Care team to schedule an appointment.
How Much Do Dental Fillings Cost?
The cost of dental fillings can vary as every patient's needs are different. All Smiles Care accepts insurance and credit cards. We also offer financing options to those who qualify as a payment option. Call our friendly team at (410) 876-2096 today for a dental fillings consultation to learn more.
What Are Dental Fillings Made Of?
Historically, dental fillings have been made from different types of materials, including metal or amalgam. However, at All Smiles Care, you now have the choice of composite or porcelain fillings. 
Make Your Appointment Today at All Smiles Care of Westminster
Interested in learning more about dental fillings? Take care of your family's smiles by scheduling online or by calling (410) 876-2096 today for an appointment. We're happy to answer any questions or concerns you may have – our team at All Smiles Care of Westminster, Maryland is dedicated to making your family dental experience healthy, safe, and fun. Also, learn more about our COVID-19 precautions and rigorous 4-way safety system.