Dental Veneers Are a Simple, Quick Way to Makeover Your Smile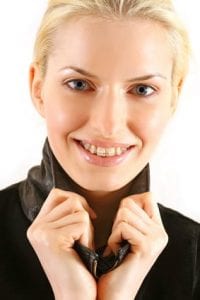 Do you have missing or damaged teeth? Are embarrassed when you smile? Do you struggle with your confidence due to the condition of your teeth? If so, you may be a candidate for dental veneers and lumineers. Although many people have resorted to using dentures, dental veneers are a more advanced way of transforming the smile.
Dental veneers work to create uniformed teeth by placing a thin material over the natural tooth for a whiter tooth that feels comfortable and natural, besides looking more attractive.
How Do Dental Veneers Work?
Dental veneers are made with either porcelain or composite for a natural look that will also work to correct the jaw and bite. About .5 mm of the original tooth will be removed to properly fit the new veneer that will replace the missing portion. It will work to easily blend in with neighboring teeth. A wax impression of the teeth will also be made for custom veneers that will look natural and fit comfortably.
Dental veneers are 0.5 mm thick and don't need to go on every tooth, only the ones that are damaged, discolored, or crooked. The method is easy to apply and lasts for a lifetime without having to reinstall them in later years.
So What About the Cost?
A cosmetic dentist baltimore md will start by evaluating the current state of your teeth. Each tooth will be properly evaluated to determine how many veneers will be needed for the ultimate dental makeover.
The cost of porcelain veneers varies greatly from practice to practice. The practice's location, the dentist's training, and the number of veneers required all have an impact on dental veneers cost. Because of this, we can't properly or honestly estimate the price tag for your veneers in this blog. Your best bet is to head to your cosmetic dentist to find out the price of your dental veneer treatment.  While you are there, don't forget to ask about financing as many cosmetic dentists offer financing plans.
Do You Need Dental Veneers? We'd Like to Know
It's now possible to transform your smile for permanent results that make it easy to leave the old smile behind. You no longer will have to be embarrassed by the condition or appearance of your teeth and will have enhanced confidence with your new smile.
Would you like to improve your smile without resorting to dentures? Do you wish your teeth were brighter, straighter, or more uniform? If so, we'd like to hear your story or answer any questions. A free e-book is also available to download to become more educated on dental veneers and how they can transform your teeth after visiting a cosmetic dentist.