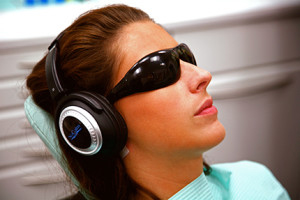 Sedation is a great solution for patients with a fear of the dentist, especially those with extensive treatments needed in order to achieve the smile they want. However, the use of sedatives also comes along with constant monitoring of vitals, as well as a bit of time needed for the medication to wear off after the appointment. The patient requires someone else to drive them home, which can be difficult to arrange. These are minor inconveniences for those with serious dental phobias, however, how about those with lesser anxiety or a desire for a more natural solution?
Enter NuCalm, a natural sedation alternative that brings your body into a deep state of calm, similar to that feeling you get right before you fall asleep. It is administered right in the dental chair before your appointment, and begins to take effect within three minutes. Throughout your dental experience, you will remain in that state of sleep known as the alpha state, where you can feel the pull of sleep and deep relaxation on your body. Your mind will be totally focused on calm thoughts and relaxation, and far away from the dental chair, however you are conscious and responsive.
What to expect at a NuCalm dental visit: 
NuCalm doesn't begin until you arrive at our office, so there is no need to arrange transportation to your appointment. A combination of a chewable dietary supplement, noise-blocking headphones playing relaxing music, and glasses or an eye mask to block out visual stimuli usher you into a state of complete relaxation. You will be able to consciously sit in the dental chair while feeling nothing but calm. After your appointment, you are able to drive yourself home, without any adverse side effects. Many people report the feeling of rejuvenation lasting long after the appointment, much like a trip to the spa!
Interested in NuCalm? Call All Smiles Care at 410-876-2096 to discuss if this is a good treatment option for you.