About Lumineers and Veneers
Lumineers and veneers are ultra thin porcelain shells that fit over your teeth to correct both aesthetic and oral health problems you may have with your teeth.
What Are Dental Veneers?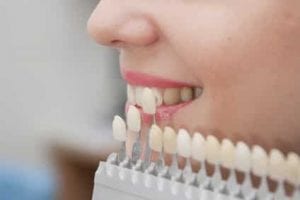 Of all the methods available today for changing and improving the look of your smile, veneers generally come out on-top as the preferred method. When age, diet and lifestyle choices leave your teeth discolored, porcelain veneers are the generally the
 number one choice to brighten teeth and improve your smile. They are highly resistant to staining and can achieve a very strong bond to the teeth underneath – easily surpassing other restorative dental options.
Considered a rather conservative approach to upgrading your smile, porcelain veneers can improve a smile that has been affected by too much fluoride as a child, stained from the use of antibiotics such as tetracycline or merely made unattractive because of fillings, an injury to the teeth or decay. If you have to fix chipped teeth or wear due to teeth grinding, you may want to consider porcelain veneers. If applied by a highly trained cosmetic dentist and properly maintained, veneers can last upwards of 20 years.
The process involves removing a small amount of tooth structure to make room for the veneers. The dental lab then fabricates the veneers from impressions that are taken of your teeth. After they are placed on your teeth, the veneers look like your natural, God-given teeth. Veneers tend to be last longer, they look more organic and authentic and they are resistant to staining.
What Are Dental Lumineers?
Lumineers are porcelain veneers that offer a painless way to a perfectly aligned and permanently whitened smile. By applying these contact lens-thin "smile shapers" to teeth without any grinding or shaving of your natural tooth structure, your teeth can be transformed into a naturally beautiful smile that fits you perfectly.
Lumineers are a painless and permanent cosmetic solution for stained, chipped, discolored or misaligned teeth. In just 2-to-3 visits you can have a custom made smile that is clinically proven to last for over 20 years … and it's completely reversible since your natural tooth structure is still intact. Your dentist can help you determine which option is best for you and your mouth.
Create a beautiful smile… instantly!
Let's be honest. Who doesn't want a perfect, radiant smile? Not only will you look better but you'll feel better too. You will be more confident both personally and professionally. You will feel more vibrant and be more communicative. You'll start living life and laughing more. By creating a beautiful smile, you will start to feel more beautiful. Choosing to have a cosmetic dental treatment like veneers with Westminster's Dr. Gary Imm will help boost your confidence for years to come.