Dental hygiene: How to keep your teeth for life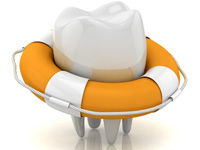 You want to keep your mouth happy and healthy for life. Who doesn't?  The rouble is, many people don't invest enough time in their dental hygiene routine.  Brushing and flossing daily is critical to keep bacteria and inflammation at bay.  If you brush and floss regularly, you can avoid things such as bad breath, tooth decay and gum disease. Brushing and flossing regularly will also increase your chance of maintaining your beautiful smile. Cavities caused by decay and inflamed, receding gums due to gum disease are leading causes of tooth loss. 
When you brush, divide your mouth up into small sections and spend at least thirty seconds on each section. Brush after every meal, even snacks. That way small residues of bacteria won't engulf your mouth and cause painful decay. Brush your tongue to remove the odour causing bacteria that often build up there.
Dental hygiene includes more than just brushing, flossing
Regardless of how well you brush and floss, it's almost impossible to get every corner, crack or crevice perfectly clean.  That's why your Westminster dentist is a key member of your dental hygiene team. We're trained to look for problems while they are still small, so we can resolve them before they become major issues or painful conditions.  Your dentist and dental hygiene team, "scale" your teeth to remove built up plaque and tartar, which can lead to gum disease. We also take x-rays of your teeth and jaw to look for cavities while they are still small as well as cysts, tumours and other oral problems that can be hard to see with the naked eye.
Your mouth is the gateway to your body
Studies have shown that the bacteria and inflammation that cause gum disease can impact the rest of your body.  We ingest food and  breathe in air through our mouths. Our blood circulates through and feeds the tissues within our mouths.  Our mouths,  in effect, are the gateways to our bodies. If there is bacteria, infection or inflammation within your mouth, it can spread to the rest of your body through your lungs and blood, causing new medical problems or worsening existing ones.
Do you have any questions?
Do you have any questions? Your dentist in Baltimore/Westminster can answer any question that you may have. Ask us a question today and we'll will respond by tomorrow.