Worried about the cost of dental implants?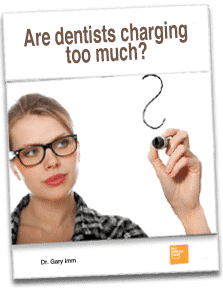 If you've thought about getting dental implants, you probably know that they are costlier than dentures. The price of implants can be intimidating, and many people shy away from the idea of implants because of the cost, without actually considering the long term costs of dentures and how they compare to the short term costs of implants.
Another important consideration is the difference between living with implants and living with dentures. When you factor in all of these things, implants truly seem to be well worth their cost.
Implants are the next best thing to natural teeth
Dental implants function nearly exactly like real teeth. Implants are supported by titanium posts in the same way that natural teeth are supported by roots. The titanium posts are permanent and the crowns that top them can last a decade or more if well cared for with regular brushing, flossing and dental check-ups. Dental implants are available for anyone who needs a single tooth implant, to replace missing teeth in different areas of the mouth or to replace all the teeth.
What's behind the cost of dental implants?
It's no secret that dental implants have a high price tag. The cost of implants is due to the procedures and materials involved. Dental implant surgery involves several steps, and the materials used must be strong and durable. Implants are a permanent replacement for lost teeth, so the cost equates to the value of the implants to the patient.
The hidden costs of dentures
While it may seem that dentures are a bargain when you get the bill from a dentist after getting them, over the course of your life you will be paying for denture adhesive, denture cleansers, denture cups, brushes and repairs or replacements every several years. With implants, you'll buy toothpaste and toothbrushes as you would if you had natural teeth. If you were to compare these costs over a lifetime, you might find that dentures are not such a bargain after all.
Comfort and oral health are also considerations. Dentures can cause discomfort and, without the tooth on tooth pressure your jawbone receives as you chew with teeth or implants, your jawbone can become reabsorbed, leading to more discomfort and that sunken in, aged look.
Enjoy life with implants
The most important comparison of dental implants vs. dentures is in day-to-day living. Dentures never really feel secure except for a few hours after putting them in place with adhesive. Most denture wearers feel a loosening of their dentures late in the day, and either have to eat with loose dentures or make a trip to the bathroom to reapply adhesive. Caring for dentures involves removing them and soaking them in a cup. Denture wearers often live in fear of being "caught without their teeth in."
Implants don't come out. When you have implants, no one will know that they are not your real teeth, and sometimes you may forget it yourself.
Learn more
If you've been thinking about dental implants, make the call for a consultation appointment. The more you learn about implants and what they can do for your health, your looks and your life, the more you'll realize how valuable good, strong teeth really are.