What's the quickest way to get straight teeth without braces?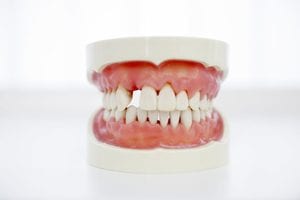 If you have crooked teeth and hate the thought of wearing braces, there are options that will straighten your teeth without braces and in a shorter time than braces usually take. Today there are more ways than ever before to correct misaligned teeth and give you the great smile you've always wanted. 
1. Sculpt them dental bonding
The fastest way to get the look of straight teeth without braces might be to have a cosmetic bonding procedure. This is a great way  to instantly perfect your smile, but it does not correct the any alignment problems you may have with your teeth. Cosmetic bonding procedures can last for years, but while they fill in gaps and even out your smile, cosmetic bonding does not move your teeth into alignment.
2. Dress them up with dental veneers
Dental veneers are a cosmetic dental treatment that changes the appearance of your teeth.  Ultra-thin thin strips of material made of porcelain or composite resin are bonded to your teeth. The finished treatment gives the impression of straight, bright, white teeth.
Veneers can correct a number of dental imperfections such as stained, discolored, chipped, broken, gapped, worn or crooked teeth.
 3. Align them invisibly
Teeth that are truly out of alignment need to be moved with orthodontic procedures. There are several types of braces available today that are less visible or don't have to be worn as long as traditional metal braces, but the quickest method of moving your teeth without braces is to wear aligner trays like Invisalign. These are sometimes called "invisible braces" and while they are practically invisible, they are not braces.
Invisalign consists of clear, plastic trays that fit over the teeth. Like braces, the aligners gradually move teeth into position. They differ from braces in just about every other way. They're not only clear and virtually invisible, they are removable. About every two weeks your dentist will give you a new set of aligners. Overall, the time you wear the aligners is about a year. Braces typically take a year and a half at minimum, sometimes two or even three years.
4. Go for a six month smile
Six Month Smiles is a teeth straightening procedure that takes less time than traditional braces because it focuses on your front teeth, the ones that show when you smile,  emphasizing cosmetic correction over resolving bite issues. Six Months Smiles uses low force to move teeth gently, making them more comfortable than traditional braces. Clear with tooth-colored wires, they are virtually invisible.
Straighten your smile!
Dentistry has come a long way in offering options for people who want to improve their smiles. There is really no reason to live with crooked, painful or unattractive teeth. You can have the straight and healthy teeth you've always wanted.
If you would like to learn more about what cosmetic dentistry can do for you, please download my free e-book, "Cosmetic Dentistry is for Everyone". 
Please follow and like us: