If your smile is something causing you embarrassment or discomfort, this blog series is for you. Over the next couple of months, we will be featuring several treatments that can change the way you feel about your smile, because sometimes, change is good!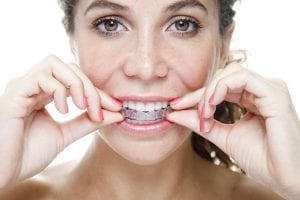 Braces are a rite of passage for many in grade school. The novelty of having braces, as well as the feeling of being "grown up" is often a selling point for children, but as an adult, wearing braces is not something most people want. The alternative may be hiding your smile, feeling embarrassed of pictures, and not feeling as confident as you could be. Taking the plunge to straighten your teeth can be daunting. There are many options, and certainly there is short term change to appearance and price to consider.
Braces
The natural choice for most people to straighten a crooked smile is the standard metal brackets. Braces are an excellent choice in terms of cost and efficacy. You also have the opportunity to correct bite issues with this treatment. Braces treatments are individualized, and the time period can vary from person to person and severity of the bite and type of adjustments needed.
Six Month Smile
Six Month Smile is an excellent orthodontic choice for adults. The treatment time is shorter than braces, and the brackets used are clear, so they are less noticeable. Often Six Month Smile is less expensive than other adult orthodontic options.
Invisalign
Invisalign and other clear aligners are the least noticeable of all bracket systems. They are unable to correct bite, however individuals who are hesitant to wear braces are able to correct their smile without making large appearance changes in the process.
Veneers
Veneers are the most reliable of all options for straitening teeth. Results are guaranteed, and bite, alignment, size, shape, and color of the teeth.
Are you embarrassed of your crooked teeth? Do you hide your smile because of imperfections due to bite?
Make the change and consult your Westminster dentist about the best option for you and your smile.