A straight smile in 6 months?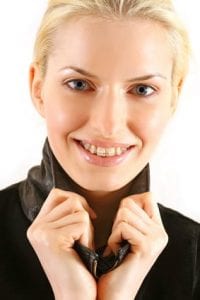 Are you constantly picking food out of your front teeth? Do you feel embarrassed or awkward when you smile? Crooked teeth are not only difficult to thoroughly clean, they can impact your self-confidence.
If you are frustrated because your teeth are not straight, or you are unable to eat, smile, laugh or talk without feeling self-conscious, then you will be happy to hear about a quick and proven way to achieve a straighter smile in only six months.
How can you get straight teeth so fast?
Six Months Smiles is an exciting solution that is especially appealing to adults who need orthodontics for straightening their teeth, but are less than enthusiastic about:
the idea of wearing braces for a year or more
the large financial investment
the look of traditional braces
How is Six Months Smiles different from other braces?
While they are still braces, there are some noticeable differences with the Six Months Smiles technique. Here are some of the unique characteristics of Six Months Smiles braces:
Six Months Smiles concentrates more on cosmetic appearance, rather than serious bite issues. Six Months Smiles is a great solution for people with crooked front teeth who are unhappy with their smile, but the rest of their teeth are relatively problem-free.
The braces are clear and use tooth-colored wires. Adults love this feature, because they are virtually invisible to most people.
Six Months Smiles are generally a less expensive way to achieve straighter teeth.
By utilizing a low force technology to gently move your teeth, Six Months Smiles braces are more comfortable to wear.
Are you a good candidate for Six Months Smiles?
Only an expert can tell for sure. While Six Months Smiles is the perfect solution for many people who want to get straighter, more beautiful smiles in a shorter amount of time, it is not the best method for people who have more serious issues, such as a misaligned bite.
The best way to determine what teeth straightening method is best for you is to book a consultation with a Baltimore dentist. With so many options available today, you can be smiling with a straighter, more beautiful smile, healthier smile – maybe  in just six months.